Write Name on Chocolate Square Birthday Cake
Special chocolate birthday cakes for special persons. Don't waste time on boring birthday wishes. Write any name on birthday cakes now online.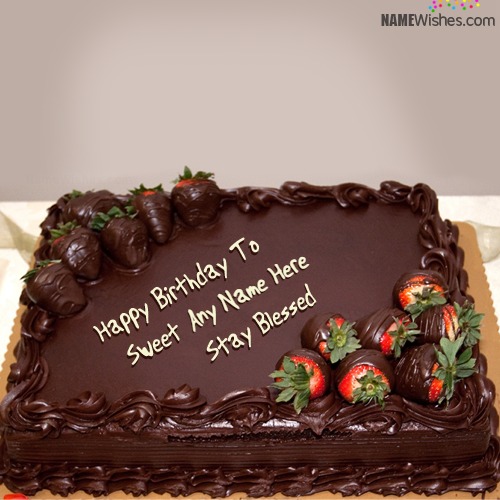 Birthday Cake With Name and Photo
This is the square shape chocolate cake for birthday celebrations. There are so many people around us who like to eat chocolate cakes even wherever they go they prefer to have chocolate cake rather than other creamy cakes. If it's the day of birthday and you have any of your friends who like this type of cakes so you do not go to somewhere just visit this site and write his or her name on the cake and send share it to on his or her any social media network. It's so easy to make cakes pictures online these are so effective and efficient.
The best ever happy birthday cakes for sister with the option to write name which looks like real. Get one now and impress anyone.
Celebrate your wife or girlfriend birthday in unique way. Send her this beautiful online free birthday cake with her name written on it. Specially for her.
This beautiful galaxy cake with planets is full of chocolate and have buttercream frosting on top of it. This is looking just like real and wonderful cake.
Birthday cake with name, photo and candles is the best option to wish your special friend or anyone. Edit cake with your own name and photo for free.
Surprise someone with birthday cupcakes with photo and name. Cupcake with name edit, cupcake with photo, cupcake photo frame, cupcake birthday idea, cupcake edit online.
Write anyone's name on cookies birthday cake & celebrate anyone's birthday in a special way. Wish all the best to friends.
Send this beautifully designed and elegant cake to your friend or relative as a free online gift on his/her birthday. Just write name and add photo to make it more wonderful.
Impress your wife with unique happy birthday wife cake with photo. Choose a beautiful photo of her and paste on this lovely heart birthday cake.
Makeup kit birthday cake with name For those girls who love to wear makeup all the time. Create this for that pretty girl on her birthday as wish cake.
We have designed Quarantine birthday cake with name. So you can create this cake also during this covid pandemic, if you are not able to visit.
Write anyone's name on pineapple birthday cake & celebrate anyone's birthday in a special way. Wish all the best to friends.
Chocolate Vanilla Birthday Cake for the most prettiest lady in your life. At least you're not as old as you will be next year. Try these unique cakes.
Cookies with photo and birthday cake with photo is the lovely combination when it's come to birthday party. Apply a memorable photo on cake wish online.
If the casual wishes doesn't work for your then birthday cake with photo is the best fit. Wish your friend with his/her name on green yummy cookies cake.
Write name on fondant birthday cake and impress your friends on their birthday in a creative way. They will love it. It looks like real.
Surprise your Friend on her birthday with this Tik Tok Birthday Cake. Perfect cake for Social Addict friend. Write her name and insert her photo.
Make anyone's birthday awesome by sending him this dairy milk chocolate bar shape cake with name. Realistic birthday cake for online wishing each other.
Set 3 photos of you or with your spouse on birthday cupcakes. Only online birthday cake with photo with 3 snaps for wishing awesomely to anyone.
Write name on happy birthday cake for husband or wife. Perfect cake for your partner or your best friend who is also a lover. Send this beautiful cake to him or her on big day.
Birthday cakes with photo in square shapes are very common. Using this birthday cake with name you can wish your friends or anyone online for free.