Tongue Smiley Emoji Birthday Cake With Name For Friends
Cute Tongue Smiley Birthday Cake For friends and family. Try this beautiful, colorful bunties chocolate vanilla cake. Best for girls birthdays.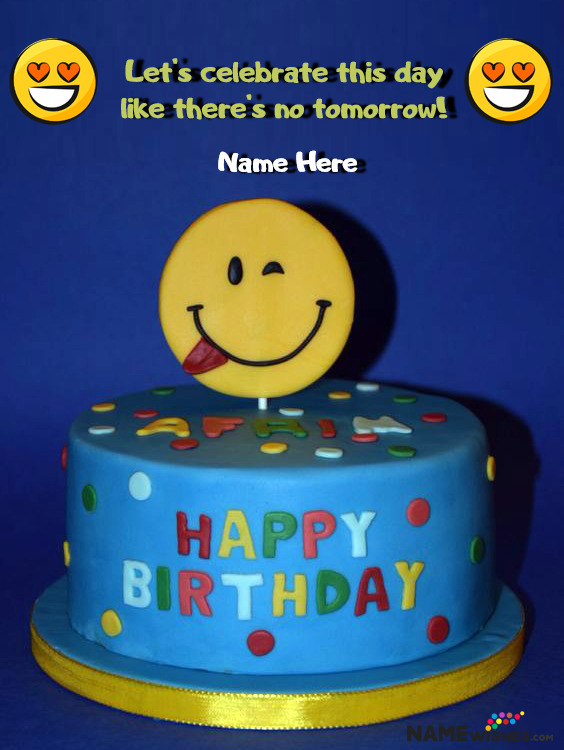 Birthday Cake With Name and Photo
Wish someone with this beautiful rose Dark chocolate birthday cake. You just have to add photo and Name of your friend. Download photo and send it.
Write any name on tree chocolate birthday cake which looks like real and make anyone's birthday awesome. It will make them feel special.
Wish your sister, wife mother or anyone by write her name on this roses birthday cake. She will love it with her name and photo on it. You can whatsapp her with ease.
Write anyone's name on colorful chocolate birthday cake and celebrate their birthday in a unique way. They will love birthday cake with name.
Write friend's name on lovely orio mix birthday cake and celebrate birthday in a special way. Impress friends with their name written on cake.
Write any name on dairly milk chocolate shaped birthday cake to make the birthday of your beloved ones more sweet and special.
Write any name on floral chocolate birthday cake which looks like real and make anyone's birthday awesome. It will make them feel special.
Happy Birthday Sweet 16. Wish Happy Birthday to the beautiful girl who just turns to Sixteen. Let's celebrate her big day by sending this lovely cake.
The perfect cake for your beautiful and prettiest wife or girlfriend. This girly cake is made up of vanilla and red velvet flavor. It has a 3D effect.
This beautiful mango cake is decorated with dark chocolate and white chocolate pastels. You can easily write name on birthday cake and photo is optional if you want to add.
Write name on fondant birthday cake and impress your friends on their birthday in a creative way. They will love it. It looks like real.
Birthday cake with name and photo frame is latest 2021 birthday cake. This unique cake is a unique surprise for your friends and family. Make it now and wish it now.
Cookies with photo and birthday cake with photo is the lovely combination when it's come to birthday party. Apply a memorable photo on cake wish online.
You think you are smart? Yes you are because you are going to try birthday cake with photo to wish your friends by setting 2 photos in stars shape.
Surprise you sister, mom, wife or anyone with birthday cake with photo on cupcake. This cupcake photo prop is the unique idea for someone's birthday wish.
Happy Birthday! Celebrate her big day by sending this beautiful heart shaped rosette cake. The cake is topped with Dark chocolate and filled with chunks.
Beautiful birthday cake with for girls who love fashion and are stylish. Send this birthday cake to that dashing girl with her name decorated on.
Like dairy milk? This birthday cake with name is for you to edit with your text and share your birthday wishes. You have got a cool birthday cake wish.
Birthday cakes are the best way to surprise your friends online. You can make it more awesome with name and photo setting on birthday cake that speaks.
Perfect Birthday Cake for girls with Name and Photo Edit online free. Wish her this year in a unique and lovely way with this girly cake. She will love it.
AdigianaUltra
AdigianaUltra