Tongue Smiley Emoji Birthday Cake With Name For Friends
Cute Tongue Smiley Birthday Cake For friends and family. Try this beautiful, colorful bunties chocolate vanilla cake. Best for girls birthdays.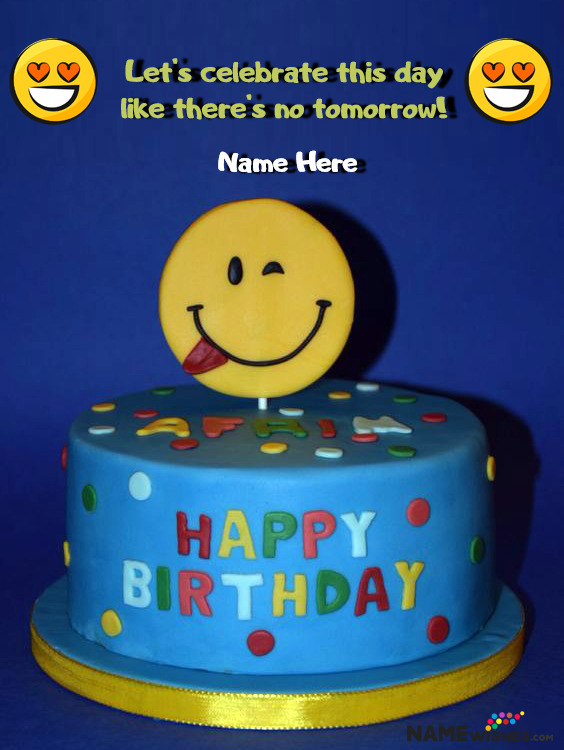 Birthday Cake With Name and Photo
Celebrate your friend's birthday by wishing in best way and making them feel how important they are. Write their name on birthday cakes.
Golden birthday cake with name and photo is the only option to wish your father or mother or anyone elder. Write name and use a beautiful photo as a prop.
Purple indigo girly birthday cake with name for girls. Girly birthday cake with name edit, girly birthday cake with name and photo, girly birthday cake with photo.
Wish Happy birthday to your friends or relatives by using these unique wonderful cakes. This unique Oreo buttercream cake is enriched and decorated with sprinkles and candies.
Write anyone's name on chocolate heart birthday cake and celebrate their birthday in special way. They will love birthday cake with name.
Write any name on dairly milk chocolate shaped birthday cake to make the birthday of your beloved ones more sweet and special.
6 beautiful cups and you can set photos on 2 of them. Also you can write name on a cupcake to make it more romantic and memorable.
Write name on this lovely cute Pink and gold macrons cake. You can also add photo in this frame provided on the cake. Share it with others as well.
Write any name on tree chocolate birthday cake which looks like real and make anyone's birthday awesome. It will make them feel special.
Surprise your Friend on her birthday with this Tik Tok Birthday Cake. Perfect cake for Social Addict friend. Write her name and insert her photo.
Wants to send free online birthday cake to your best friend? Try these amazing beautiful and unique Birthday cakes with name and photo. Wish her with love.
Use this birthday cake with photo of your best friend to tell everyone about your friendship. A big cake for big heart friend is the great online wish.
Delicious, rich and moist Cadbury chocolate cake is sure to become a favorite for anyone. Cadbury Dairy Milk Birthday Cake with Name is the best way to wish your loved ones on their birthday.
Write the name on best birthday cakes and impress your friends on their birthday in a creative way. They will love it. It's like real.
Simplest and cutest heart birthday cake with name and photo frame. Red heart birthday cake with option to write your name and set a photo of yours in heart shape
The best ever cute happy birthday cakes for girls with the option to write name which looks like real. Get one now and impress them.
Try our unique heart birthday cake with 2 photos on it. You can also set a name of the birthday person with cool lovely style and wish.
Surprise someone with birthday cupcakes with photo and name. Cupcake with name edit, cupcake with photo, cupcake photo frame, cupcake birthday idea, cupcake edit online.
Write anyone's name on Orio chocolate birthday cake and celebrate their birthday in a yummy way. They will love birthday cake with name.
Now write your name on birthday cake which is specially designed for BMW lovers. Send this birthday cake to your friend who love BMW Cars.
AdigianaUltra
AdigianaUltra