Royal Vanilla Buttercream Frosting Cake With Name and Pic Edit
This beautiful Royal cake is perfect to gift who is a prince or princess to you. This fondant cake have a beautiful golden crown on it and enriched with vanilla buttercream frosting.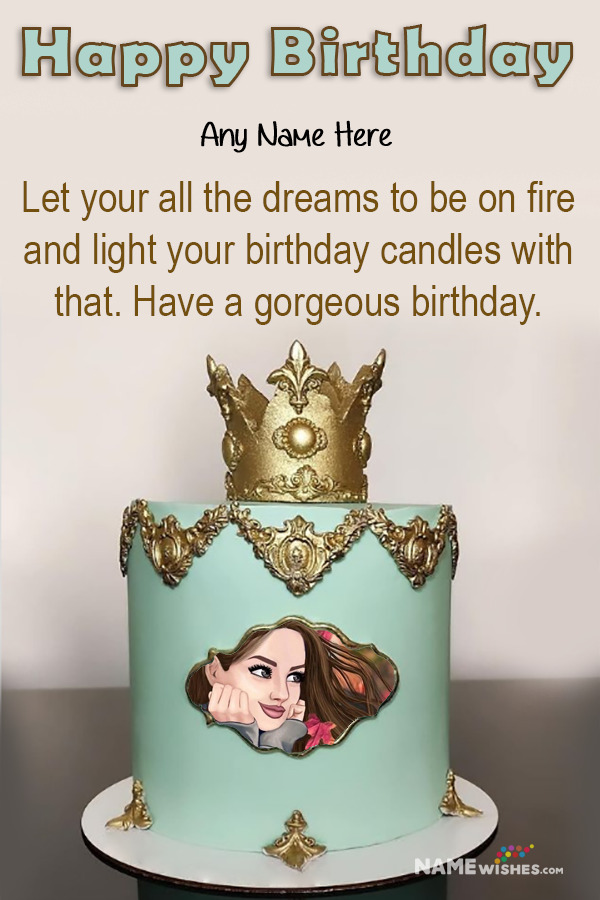 Birthday Cake With Name and Photo
Golden birthday cake with name and photo is the only option to wish your father or mother or anyone elder. Write name and use a beautiful photo as a prop.
Birthday cake for sister with name and photo is the best cake online to wish your sister. Make her day a happy day with this cute birthday wish surprise.
Write anyone's name on chocolate filled birthday cake & celebrate birthday in a special way. Impress friends with their name decorated cake.
Birthday of the one who loves McDonald's ? Send him/her this beautiful McDonald cake loaded with Beef Burger, Fries and cold drink. Write name on cake and add photo.
Make anyone's birthday awesome by sending him this dairy milk chocolate bar shape cake with name. Realistic birthday cake for online wishing each other.
Here is the new Batman cake with name edit for your birthday wishes. Happy birthday cake with name edit, Birthday Cake with Name generator for friends.
Write name on awesome Hershey's chocolate cake & impress your friends on their birthday in a creative way. They will love it. It's like real.
Surprise you sister, mom, wife or anyone with birthday cake with photo on cupcake. This cupcake photo prop is the unique idea for someone's birthday wish.
Write anyone's name on new red velvet birthday cake and celebrate birthday in a special way. Impress them with their name written on cake.
Wish your friends by writing his/her name on this colorful birthday cake and set their photo in a frame. Hope they will love it.
Birthdays are really important especially when it comes of someone special. So Let her wish with this Chocolate Heart cake with Name and photo on it.
This is the beautiful birthday cake in heart shape which you can use to wish your lover on his or her birthday by writing the name like real.
You think you are smart? Yes you are because you are going to try birthday cake with photo to wish your friends by setting 2 photos in stars shape.
Write name on birthday cake specially designed for social media lovers. Try this social birthday cake with name, you will love its decorating and style
Ocean birthday photo cake with name for girls and aged people. Ocean birthday cake lovers, birthday cake name edit, photo birthday cake, birthday cake with photo frame.
Wish your sister, wife mother or anyone by write her name on this roses birthday cake. She will love it with her name and photo on it. You can whatsapp her with ease.
Write name on happy birthday cake for husband or wife. Perfect cake for your partner or your best friend who is also a lover. Send this beautiful cake to him or her on big day.
Write friend's name on red ice-cream birthday cake and celebrate birthday in a special way. Impress friends with their name written on cake.
Surprise someone with birthday cupcakes with photo and name. Cupcake with name edit, cupcake with photo, cupcake photo frame, cupcake birthday idea, cupcake edit online.
Birthday of your sister or best friend ? Wish them in special and unique way. Send them this funny emoji cake and make them laugh whole day. Write Name.