Personalized Chocolates Basket Birthday Gift For Friends
Send this chocolate basket birthday gift to your friend with his/her name and photo. Make this popcorn style birthday gift now and wish someone you love.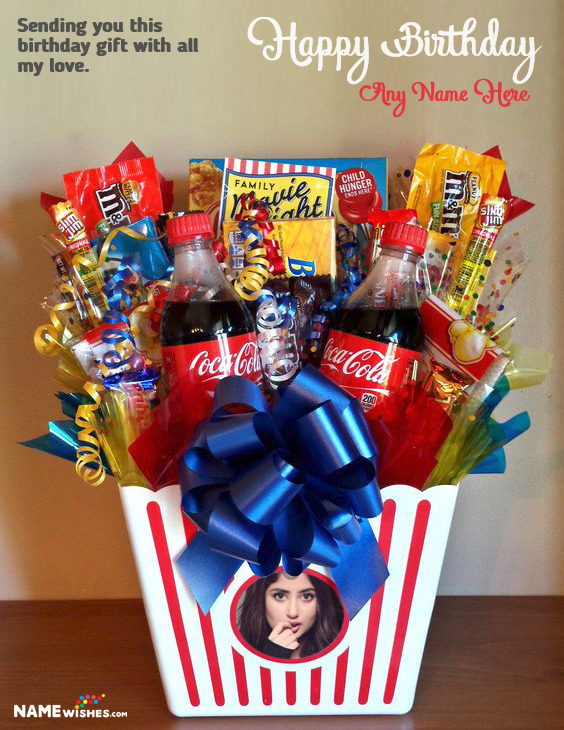 Birthday Wishes With Name And Photo
For chocolate Lovers, This is absolutely the perfect gift for her and she will be really happy and will be amazed when she will receive such a huge chocolate basket from you.
What I learned only a few moments ago is that your birthday is certainly going to be an amazing day, not only because it's a joyous occasion of the birth of the most valuable human beings on earth, but more because of all of the candles in your cake! Happy birthday.
Put a photo of her on the basket, write the beautiful name and send this amazing choco basket to wish her the day.
Send your girlfriend or wife this beautiful happy birthday photo frame. Fully loaded with lots of gifts items and lights on the top. Happy birthday frame.
Instagram post like personalized birthday gift led frame is the best choice to send a gift online to anyone. Make friend's birthday wish unique with this.
This happy birthday collage birthday frame is with 2 photo frames and a beautiful birthday wish. Use this birthday frame to wish your friends and relatives and send them freely.
Send this chocolate basket birthday gift to your friend with his/her name and photo. Make this popcorn style birthday gift now and wish someone you love.
People Born In August Birthday Wish Photo Name. Edit this free birthday wish in high resolution. This beautiful birthday wish post must be send to the people who born in August.
Awesome personalized birthday gift for husband wife or girlfriend boyfriend. This is a lovely romantic surprise box with photo and name edit option.
Wish happy birthday to your lovely friend or any family member. This is the cute emojis photo frame perfect for the lovely and jolly person. Share it with others as well.
Try this happy birthday collage to surprise your friend by giving online personalized birthday collage as a gift. Easy to create and fast download.
Write everybody's name on cute birthday wishes and impress your friends on their birthday in a cute way. They will love it. It's very easy.
Funny and unique Toilet Seat Birthday Gift Surprise For friends. If you can't go to his party, no problem just make fun by sending this funny surprise.
3 photos and a name on happy birthday collage is the best idea to share with your birthday friend. 1 big photo and 2 little photo in hexagon shape.
Spectacular happy birthday collage with 3 photo to try right now. You can print this photo collage and set in a beautiful frame like the image & gift.
A beautiful Birthday Wish Note for the beautiful lady in your life. Wish her with love and respect on this wonderful and important day. Send this image.
Try this funky emoji Birthday Wish. Write name of your best friend and insert her photo in this cute emoji wish. Make her smile by sending this.
Wish your loved ones or your partners on their birthday with our lovely happy Birthday photo frames specifically designed for partners who love each other.
Tell your friends how happy you are on their birthday by writing their names on birthday wishes. This will make you wish more special and cool.
Send this beautiful Birthday Photo Frame to your niece or any kid in your family. He/She will definitely be happy to see the pic with cute photo frame.
This cute birthday collage is comprised of 4 photos. 1 is compulsory and other 3 are optional photos. If you want to add these photos it will look more cool. Write name on this birthday wish.
Update your social profile status with beautiful happy birthday photo frame now. Spread love and happiness. Wish birthday to your loved one in a great way.
Try these beautiful and amazing birthday wishes to wish someone in special way. Birthdays are important and whenever it is of Loved one, it's much important.
AtlantisHeartFree
AtlantisHeartFree
Blogger_Sans-Bold