Oreo Chocolate Birthday Cake With Name Edit Online For Friends
Try this oreo chocolate birthday cake. This cake is combo of oreo chocolate cookies and vanilla cream. Send this to your friends and wish them birthday.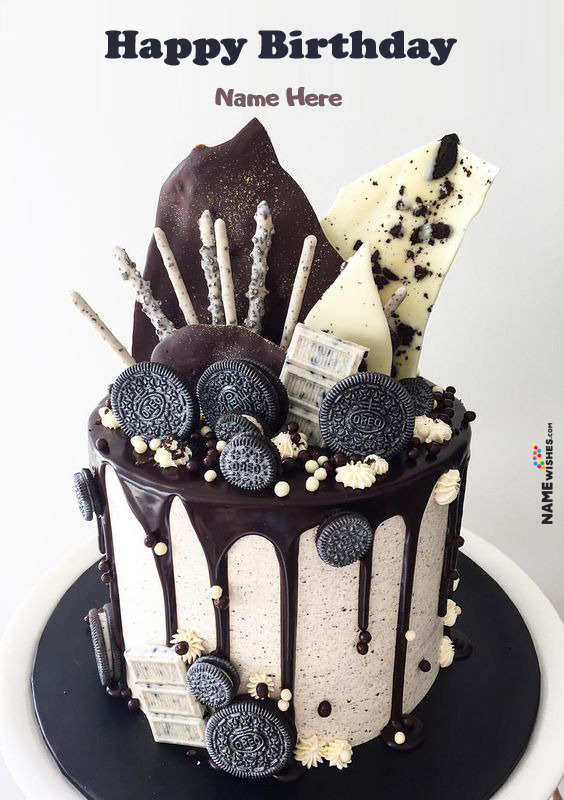 Birthday Cake With Name and Photo
Write anyone's name on flowers birthday cake and celebrate their birthday in special way. They will love birthday cake with name.
Make a realistic birthday cake with name and photo online for free. Apply a beautiful photo and write name in curved style with happy birthday text.
Surprise your Friend on her birthday with this Tik Tok Birthday Cake. Perfect cake for Social Addict friend. Write her name and insert her photo.
Everyone likes chocolate cakes on their birthday. But if you write any name on birhtday cake then it becomes more valuable for that person.
Write name on awesome Hershey's chocolate cake & impress your friends on their birthday in a creative way. They will love it. It's like real.
If the casual wishes doesn't work for your then birthday cake with photo is the best fit. Wish your friend with his/her name on green yummy cookies cake.
Now write your name on birthday cake which is specially designed for friends. Send this funny birthday cake to your friends and have fun.
Happy Birthday Sweet 16. Wish Happy Birthday to the beautiful girl who just turns to Sixteen. Let's celebrate her big day by sending this lovely cake.
Write anyone's name on birthday cake with decorated wish and celebrate birthday in a special way. Impress them with their name written on cake.
Customized heart birthday cake with name and photo is the new type of birthday wish idea. Sending romantic heart cake on birthday with name is easy.
Write anyone's name on tiny hearts icecream birthday cake and celebrate their birthday in special way. Impress them, they will love it.
Write any name on purple happy birthday cake which looks like real and make anyone's birthday awesome. It will make them feel special.
Write anyone's name on chocolate filled birthday cake & celebrate birthday in a special way. Impress friends with their name decorated cake.
Finding the perfect happy Birthday cake for your Dad brother or husband? You are at the right place. This is the perfect cake ideally designed for men.
Wish Happy birthday to your friends or relatives by using these unique wonderful cakes. This unique Oreo buttercream cake is enriched and decorated with sprinkles and candies.
Looking for unique birthday cakes? Wanna wish your beloved ones in a special way? Then write friend's name on the chocolate heart cake.
The best ever stars birthday cakes for Friends with the option to write name which looks like real. Get one now and impress them.
Birthday cake with photo and name frame and in heart shape is always the best choice for wishing online. Make this photo birthday cake for anyone to wish them on bday
Top most romantic birthday cake with name for you to edit online for free. Send this as a birthday wish to your girl friend, boy friend or husband wife.
There are old boring birthday cakes on all over the internet that you don't want to use. Try these new birthday cakes with any name and wish your friends.