Happy Birthday Wife Cake With Photo
Impress your wife with unique happy birthday wife cake with photo. Choose a beautiful photo of her and paste on this lovely heart birthday cake.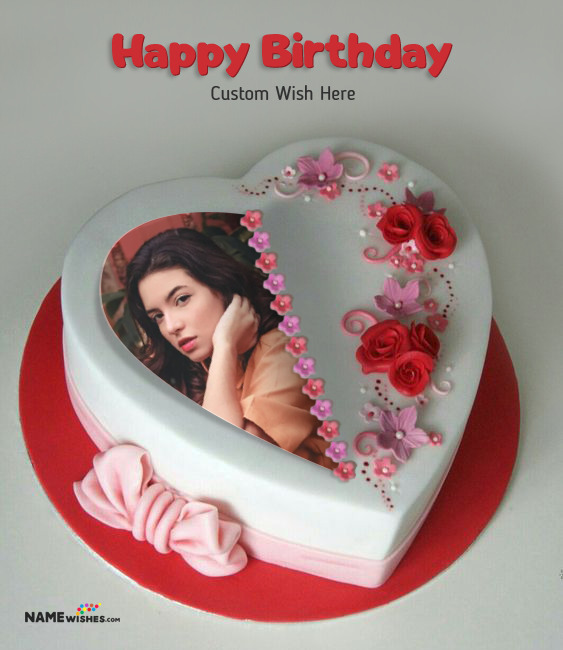 Birthday Cake With Name and Photo
Hoping this born day greeting brings a lot of love and wish for a day of all the coolest things.
I know you need to do lots of things today, so I'm going to going to help you today and do everything with you.
Happy Birthday honey! I found this gift card, and thought you would love to indulge. Have fun, Happy Birthday.
I'll never forget that sparkle in your eye that made me fall in love with you. Happy Birthday, my love! You never lost that sparkle.
You are kind, amazing, fantastic, beautiful and sexy. I'm so glad that I married you.
It's so easy to love you. Happy Birthday!
Don't pinch me! Being with you is like a dream that I never want to wake up from.
After all these years together, you still make me feel like the teenage boy who won your heart. You are still my high school sweetheart.
If you are looking for birthday cakes with name for wife, try birthday cake with name. Share this happy birthday wife cake with photo on any social network.
Surprise someone with birthday cupcakes with photo and name. Cupcake with name edit, cupcake with photo, cupcake photo frame, cupcake birthday idea, cupcake edit online.
Write name on fondant birthday cake and impress your friends on their birthday in a creative way. They will love it. It looks like real.
Special birthday cake with name and pic edit is the best cake online for special people. Surprise your friends and family with this real birthday cake heart.
Write anyone's name on chocolate filled birthday cake & celebrate birthday in a special way. Impress friends with their name decorated cake.
Write friend's name on fruity chocolate birthday cake and celebrate their birthday in a special way. They will love birthday cake with name.
Birthday cake with name for girls are the trendy way to wish your sister, friend or girl friend. Make this cute birthday cake and wish her like nobody does.
Finding perfect cake for your wife's birthday or your girlfriend;s birthday? You are at the right place. Here you will find lots of wishes, cake to wish.
Birthdays are important and must be celebrated in special way to make someone happy. This beautiful chocolate birthday cake is covered with dry fruits.
The best ever happy birthday cakes for lovers with the option to write name which looks like real. Get one now and impress them.
Birthday of the cute girl? Wish her happy birthday with this cute funky emoji cake. Fondant buttercream vanilla cake ideally designed for girls.
This cute baby shark themed birthday cake is perfect to give some cute little doll who just turns 3 years old. Send her this beautiful cake and make her feel happy.
Red velvet roses birthday cake with name photo is the only cake that can blow anyone's heart. Wish your dear ones a happy birthday with love of this cake image.
The best way to wish your friends on their birthday is to send them birthday cakes with their name decorated on. It will make them happy.
Perfect happy birthday cake for girls and your girlfriend. Pink Rosette Red velvet birthday cake is perfect gift for your cute girl in this pandemic.
Write name of your friend or girlfriend on this lovely cake. This cute cake is decorated with caramel crunch toppings and fresh flowers. There are lots of birthday cakes, you can check.
Introducing birthday chocolate cake with curved name. Write your name in curved style on this yummy chocolate birthday cake. Birthday cake for friends and family.
Use this birthday cake with photo of your best friend to tell everyone about your friendship. A big cake for big heart friend is the great online wish.
6 beautiful cups and you can set photos on 2 of them. Also you can write name on a cupcake to make it more romantic and memorable.
Wish your friend or daughter, son, wife, fiancee on his/her 21st Birthday. happy 21 Birthday cake with name for all girls with photo edit online.
White chocolate birthday cake, cake with name and photo. This cake is designed with vanilla flavor and a beautiful photo topper is making it more unique.