Happy Birthday Gifts Photo Frame With Name Edit Online
Send your girlfriend or wife this beautiful happy birthday photo frame. Fully loaded with lots of gifts items and lights on the top. Happy birthday frame.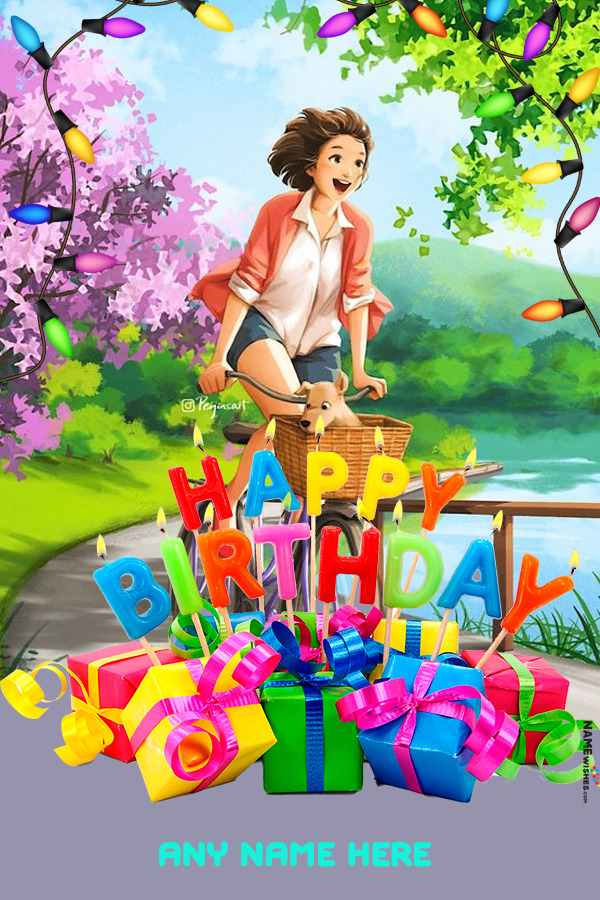 Birthday Wishes With Name And Photo
Birthday of your loved one or partner? Wants to wish online in this pandemic ? Just use our online birthday wishes with name and photos edit online. Browse through these lots of pages having multiples birthday wishes and biorthday photo frames.
You will find frmaes and wihses regarding husband, wife, friend, sister, niece, borther, dad and mom. Infact these birthday wishes and birthday cards for everyone.
Write the name on cool birthday wishes and impress your friends on their birthday in a creative way. They will love it. It's very easy.
Happy birthday to you wish with online edit for free. Set name and photo on this cute little happy birthday card. Greet your friends with love and perfection.
Try this beautiful and decent birthday photo frame to gift to your relative or friend on special day. you can easily upload photo and it will appear in heart shaped.
Wish yourself with happy birthday to me photo frame. You can decorate your name on this frame to pop it out more for social share and updates.
To wish your best friend a happy birthday is fun. So we made this easy for you to wish friends with our this funny birthday card and have fun.
This cute birthday collage is comprised of 4 photos. 1 is compulsory and other 3 are optional photos. If you want to add these photos it will look more cool. Write name on this birthday wish.
Write the name on minion birthday wishes and impress your friends on their birthday in a creative way. They will love it. It's very easy.
Wish your loved ones or your partners on their birthday with our lovely happy Birthday photo frames specifically designed for partners who love each other.
Birthdays are important in everyone's life. Someone's special birthday is much more important. Let's celebrate his or her birthday by sending this wish.
Try this funky emoji Birthday Wish. Write name of your best friend and insert her photo in this cute emoji wish. Make her smile by sending this.
Try this cute Cupcake Birthday Wish. Send this to your Lover or friend with her Name and her stylish photo. Best online wish for cupcake lovers.
This cute Birthday wish is the perfect present for the people who born in April. In this birthday wish, the qualities of April people are written in beautiful style.
Write the name on awesome birthday wishes and impress your friends on their birthday in a creative way. They will love it. It's very easy.
Send this Beautiful Birthday wish to your mother or sister. This is perfectly designed with floral photo frame and a lovely wish. Wish her in unique way.
Birthday of your love? Share this beautiful lovely romantic image with him/her opn big day. You can easily share this image on Whatsapp Status as well.
Impress your friend with this iphone personalized birthday gift on his birthday. Write his name with text wish on this gift image and send online.
Write your name on birthday backdrop with balloons and stars. You can impress anyone with this name birthday wish which looks like real and interesting.
Wants to wish happy birthday to friend ? Use this lovely birthday wish to friend. Add perfect photo of you and your friend. Write Name on it and generate it.
Happy birthday whatsapp status with photo is the best option to try for wishing birthday to your love, wife, mother, friend or anyone.
Looking for happy birthday collage to send your spouse? Try this collage with option to add 3 photos in lovely heart shape frames and with custom wish.