Floral Chocolate Birthday Cake With Name
Write any name on floral chocolate birthday cake which looks like real and make anyone's birthday awesome. It will make them feel special.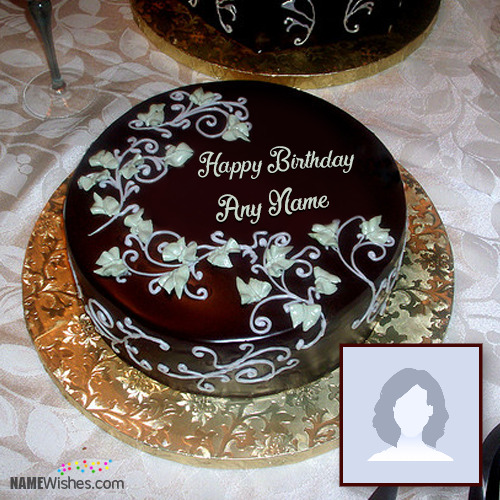 Birthday Cake With Name and Photo
Write any name on floral chocolate birthday cake which looks like real and make anyone's birthday awesome. You can write name of your friends, any family member or your lover's name in just a single step. It will make them feel special. It is now very easy to write name on birthday cakes which totally looks like real. You can impress your friends with these birthday cakes with their name decorated on. They will love it. Don't forget to share.
Birthday cake with photo and name frame and in heart shape is always the best choice for wishing online. Make this photo birthday cake for anyone to wish them on bday
Try this cupcake for wishing your spouse online with a cute photo. This birthday cake with photo will allow you to set a photo in heart shape on cupcake.
There are lots of birthday cakes on the internet but they are old and boring. We brought you new and best birthday cakes with name writing option.
Looking for unique birthday cakes? Wanna wish your beloved ones in a special way? Then write friend's name on the chocolate heart cake.
Delicious, rich and moist Cadbury chocolate cake is sure to become a favorite for anyone. Cadbury Dairy Milk Birthday Cake with Name is the best way to wish your loved ones on their birthday.
Birthday of your lover and wants to send the perfect cake on his/her birthday? Try this beautiful love and kiss XOXO design birthday cake with name edit online.
Write anyone's name on rose birthday birthday cake and celebrate their birthday in special way. They will love birthday cake with name.
Wants to wish your friend on her birthday in unique way? Try this beautiful birthday cake image with name and photo. Its look like real cake. Wish her.
Wish someone with this beautiful rose Dark chocolate birthday cake. You just have to add photo and Name of your friend. Download photo and send it.
The best ever stars birthday cakes for Friends with the option to write name which looks like real. Get one now and impress them.
Birthdays are really important especially when it comes of someone special. So Let her wish with this Chocolate Heart cake with Name and photo on it.
Birthday of your sister or best friend ? Wish them in special and unique way. Send them this funny emoji cake and make them laugh whole day. Write Name.
Birthday of the one who loves McDonald's ? Send him/her this beautiful McDonald cake loaded with Beef Burger, Fries and cold drink. Write name on cake and add photo.
Black chocolate birthday cake with name, black birthday cake with name, chocolate cake with name edit, chocolate cake edit online, birthday cake with chocolate name.
Wants to wish someone special on his/ her birthday? Can't send real cake as you are far away. Send this free online edit Birthday cake to your friend.
Birthday cake with name and photo, heart birthday cake, ice cream birthday cake, indigo cake photo, cake with wish. Send this to your friends with photo.
This cute heart shape cake is made of dark chocolate and decorated very decent way which looking extremely beautiful. Send this cake to your husband on his birthday.
6 beautiful cups and you can set photos on 2 of them. Also you can write name on a cupcake to make it more romantic and memorable.
This beautiful cake is filled with chocolate caramel and loaded with macrons, Chocolate balls and snickers crunchy chocolate chips cookies. Share it with your friend on Birthday.
Introducing birthday chocolate cake with curved name. Write your name in curved style on this yummy chocolate birthday cake. Birthday cake for friends and family.