Cute Winky Smiley Birthday Cake For Girls With Name Free Online
Perfect Birthday Cake for girls who love to laugh and are somewhat jolly and loving. Make her more happy on her Big day by sending this emoji cake.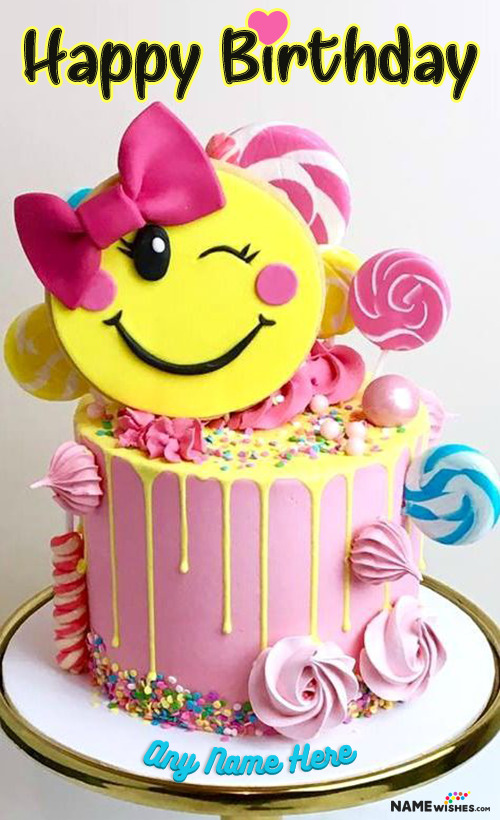 Birthday Cake With Name and Photo
Set 3 photos of you or with your spouse on birthday cupcakes. Only online birthday cake with photo with 3 snaps for wishing awesomely to anyone.
Birthdays are really important especially when it comes of someone special. So Let her wish with this Chocolate Heart cake with Name and photo on it.
Red velvet heart birthday cake with photo name, red velvet heart cake with name, red velvet heart cake with photo, red velvet heart cake edit, red velvet cake frame.
Makeup kit birthday cake with name For those girls who love to wear makeup all the time. Create this for that pretty girl on her birthday as wish cake.
Write any name on angry bird birthday cake which looks like real and make anyone's birthday awesome. It will make them feel special.
Birthday cake for sister with name is the sibling way to wish your sister a happy birthday. Make birthday wish and write name on queen birthday cake.
Wish your sister, wife mother or anyone by write her name on this roses birthday cake. She will love it with her name and photo on it. You can whatsapp her with ease.
Chocolate Vanilla Birthday Cake for the most prettiest lady in your life. At least you're not as old as you will be next year. Try these unique cakes.
Write anyone's name on tiny hearts icecream birthday cake and celebrate their birthday in special way. Impress them, they will love it.
Simplest and cutest heart birthday cake with name and photo frame. Red heart birthday cake with option to write your name and set a photo of yours in heart shape
Write any name on best ever chocolate birthday cake and impress anyone on their birthday in a best way. They will love it. It looks like real.
Girly birthday cake with name is the unique and pretty birthday wish idea for girls. Try this idea by writing your girl friends name on this girly cake
6 beautiful cups and you can set photos on 2 of them. Also you can write name on a cupcake to make it more romantic and memorable.
Birthday cakes are the best way to surprise your friends online. You can make it more awesome with name and photo setting on birthday cake that speaks.
Write anyone's name on square red velvet birthday cake and wish on their birthday in a special way. They will love birthday cake with name.
The best ever happy birthday cakes for lovers with the option to write name which looks like real. Get one now and impress them.
This beautiful birthday cake is decorated with flowers and have buttercream topping on it. Inside this cake it is full of chocolates and chunks of chocolate chips.
Beautiful cake designed with fresh flowers and butterflies. Beautiful golden balls gives an elegant look. Share this beautiful cake with your friend on Birthday.
Birthday of your lovely friend? Send this beautiful Chocolate cake with name to your best friend. Let's celebrate her day and make her happy and Enjoy.
Impress your wife with unique happy birthday wife cake with photo. Choose a beautiful photo of her and paste on this lovely heart birthday cake.