Cool Pink Birthday Cake With Name
The best way to wish your friends on their birthday is to send them birthday cakes with their name decorated on. It will make them happy.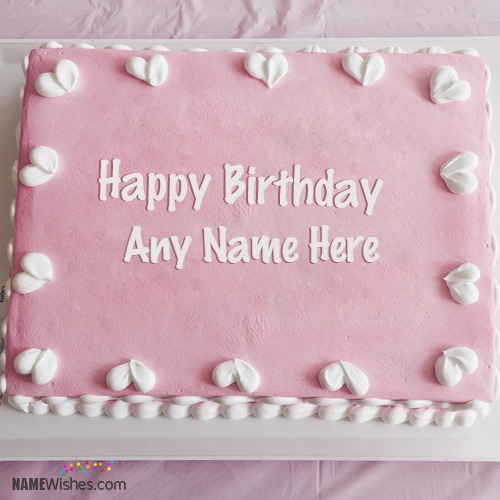 Birthday Cake With Name and Photo
On your friends birthday.May your friend receive even more blessings than he ask for, and may all good things continue to come his or her way. You want to wish him a Happy Birthday? then just tell you friend that how special he or she is.Tell them that you wan't to celebrate each of his or her birthday together as best friends.If you are planning to wish your friend in a different way then remember that it is just a click away, all you have to do is click on the picture, write his or her name and then share it with them through you social network like Facebook, Twitter etc.
Write anyone's name on new red velvet birthday cake and celebrate birthday in a special way. Impress them with their name written on cake.
Here is the special cookies ice-cream birthday cake for anyone with name decorated on and also with the photo frame.
Wish anyone who is mad about chocolates with our new chocolate birthday cake with photo. Use a selfie snap of the birthday boy or girl on this cake wish.
Customized heart birthday cake with name and photo is the new type of birthday wish idea. Sending romantic heart cake on birthday with name is easy.
Everyone likes chocolate cakes on their birthday. But if you write any name on birhtday cake then it becomes more valuable for that person.
Set 3 photos of you or with your spouse on birthday cupcakes. Only online birthday cake with photo with 3 snaps for wishing awesomely to anyone.
Your friend is the chocolate Lover? Wants to send him or her the best chocolate cake free online? Yes you are at the right place. Add her photo and name.
Write anyone's name on rose birthday birthday cake and celebrate their birthday in special way. They will love birthday cake with name.
Set a name and photo on this sparking birthday cake for wishing anyone on their special day. Happy Birthday to you with all my love and affection.
This beautiful birthday cake is decorated with flowers and have buttercream topping on it. Inside this cake it is full of chocolates and chunks of chocolate chips.
Beautiful butterflies birthday cake with name edit. This cake is made for mothers, sisters, wife and girls who are awesome and creative. Wish them best.
Birthday of your sister or best friend ? Wish them in special and unique way. Send them this funny emoji cake and make them laugh whole day. Write Name.
Celebrate your wife or girlfriend birthday in unique way. Send her this beautiful online free birthday cake with her name written on it. Specially for her.
Write name on amazing birthday cake and impress your friends on their birthday in a creative way. They will love it. It looks like real.
Write name on Red rose Birthday Cake decorated with white buttercream frosting on top of it. This is the best idea to wish anyone online. Make everyone's birthday special with name birthday cakes.
This is the most wanted birthday cake for music lovers with name and photo. Music birthday cake with name, music birthday cake with photo, birthday cake with name edit.
Write anyone's name on colorful flowers birthday cake & celebrate birthday in a special way. Impress friends with their name decorated cake.
Write name on happy birthday cake for husband or wife. Perfect cake for your partner or your best friend who is also a lover. Send this beautiful cake to him or her on big day.
Write anyone's name on pineapple birthday cake & celebrate anyone's birthday in a special way. Wish all the best to friends.
Perfect Birthday Cake for girls with Name and Photo Edit online free. Wish her this year in a unique and lovely way with this girly cake. She will love it.