Congratulations on Cute Wedding Anniversary
Congratulations wishes on the wedding anniversary of your beloved friends with name editing option, so you can better show your love for them.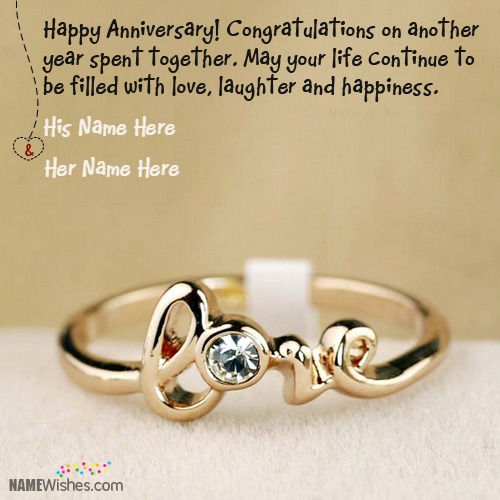 Anniversary Wishes
Wedding anniversaries are special, it is the day when a couple celebrates all the moments spent with each other, anniversary is the celebration of love, trust, partnership, tolerance and tenacity. With every passing year the bond between a coupe becomes stronger and stronger. If you truly admire a couple and their strong bonding then what are you waiting for.. here is a new way to wish the couple on their special day. Just write their name on the picture by clicking on it and then send it to them on their anniversary, also share it with your friends on Facebook, Twitter etc
Wanna surprise your partner on wedding anniversary with some special wishes? Simply write your names on this custom card & make your partner smile.
Bestest collection of wedding anniversary wishes written on cards. Also you can write couple name on the wishes to make you special day more special.
Impress your partner with wedding anniversay wishes by writing his or her name on the heartful anniversary card. This card is customizable.
CACNormHeavy
CACNormHeavy