Chocolate Heart Birthday Cake For Lover Girl Friend
This beautiful chocolate heart birthday cake is a perfect gift for your boy friend or girl friend on his/her birthday. Send this digital cake gift to anyone on WhatsApp also.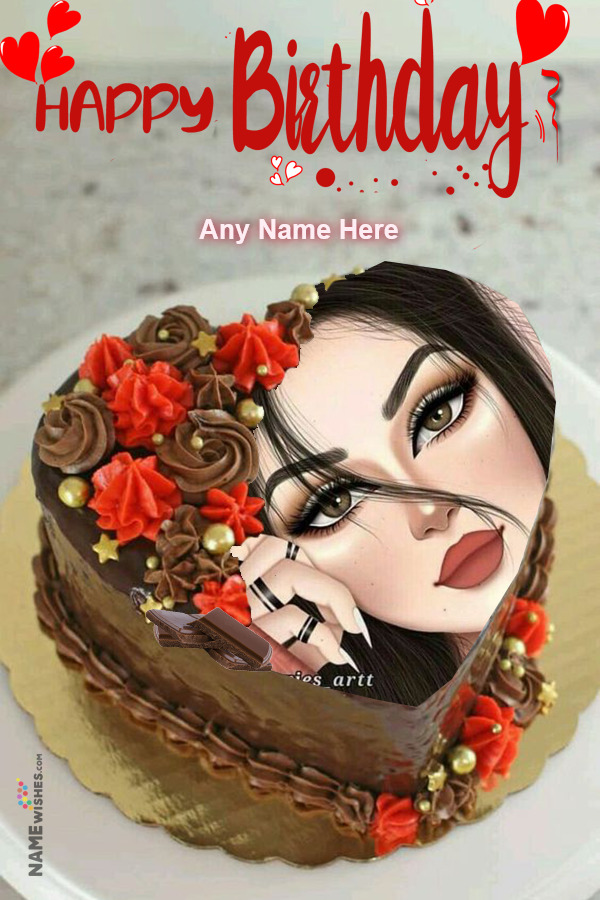 Birthday Cake With Name and Photo
Birthday of your beautiful wife? Send her this fresh flower birthday cake with name free online. Happy Center of Attention Day Pretty lady. Show Love.
Birthday of your Love? Try this beautiful kiss emoji cake. Send her by writing her name and make her day memorable. Wish her with success and happiness.
Write anyone's name on full chocolate birthday cake & celebrate birthday in a special way. Impress friends with their name decorated cake.
Write name on this lovely happy birthday cake with name and photo edit online. This lovely abstract art cake is designed beautifully and it is filled with caramel crunch along with red velvet flavor cake.
Birthday of your partner or Lover? Wants to wish him with the best and unique cake on his birthday? Just add his lovely photo and write name. Send it to him.
Beautiful cake designed with fresh flowers and butterflies. Beautiful golden balls gives an elegant look. Share this beautiful cake with your friend on Birthday.
Beautiful birthday cake with for girls who love fashion and are stylish. Send this birthday cake to that dashing girl with her name decorated on.
Delicious, rich and moist Cadbury chocolate cake is sure to become a favorite for anyone. Cadbury Dairy Milk Birthday Cake with Name is the best way to wish your loved ones on their birthday.
There are lots of birthday cakes on the internet but they are old and boring. We brought you new and best birthday cakes with name writing option.
This beautiful birthday cake is decorated with flowers and have buttercream topping on it. Inside this cake it is full of chocolates and chunks of chocolate chips.
This birthday cake with name and photo is best for friends for wishing on their birthday. Set a prop photo of friend with balloons on the top of cake.
Wish Happy birthday to your friends or relatives by using these unique wonderful cakes. This unique Oreo buttercream cake is enriched and decorated with sprinkles and candies.
Write friend's name on fruity chocolate birthday cake and celebrate their birthday in a special way. They will love birthday cake with name.
This beautiful and colorful birthday cake is perfectly designed for your best friend or partner. Send her this lovely cake and make her day more special and memorable.
Set a name and photo on this sparking birthday cake for wishing anyone on their special day. Happy Birthday to you with all my love and affection.
Birthday of the one who loves to see the dance of peacock? You are at the exact place. Just write his or her name on this colorful cake and send them.
Number 2 chocolate birthday cake is a digital gift for someone special who is close to your heart. Send this letter number cake to anyone freely through our website
This beautiful cake is filled with chocolate caramel and loaded with macrons, Chocolate balls and snickers crunchy chocolate chips cookies. Share it with your friend on Birthday.
Wish your friend or daughter, son, wife, fiancee on his/her 21st Birthday. happy 21 Birthday cake with name for all girls with photo edit online.
Birthday cake with name and photo for friends, brother, sister or anyone. You can not just add name but also set a beautiful photo of your friend on this cake.