Birthday Cake with Photo - Best Cake for Best Friends
Use this birthday cake with photo of your best friend to tell everyone about your friendship. A big cake for big heart friend is the great online wish.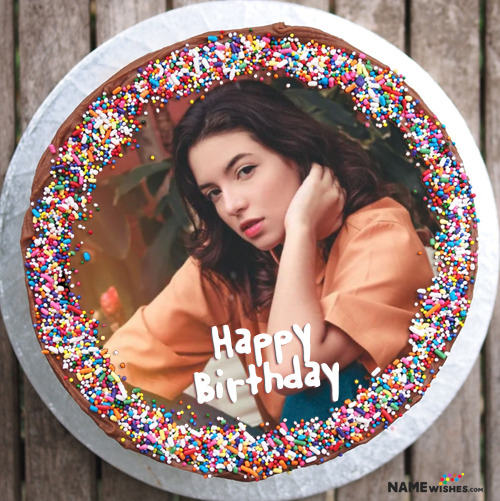 Birthday Cake With Name and Photo
Never stop dreaming. there's no secret deadline for life's achievements. Keep looking forward and believe that more adventures are expecting you round the corner.
When you specialize in the celebrations instead of the frustrations, your life becomes one endless string of parties. It's the only things that make your life count, as an easy wish.
A friend is the person who is very close to your heart, as you can share anything with her/him. So it is your duty to make his/her birthday memorable by creating birthday cake with photo online. This way you can tell your buddy that you are the most important. If your friend likes birthday cake with name then give it a try also.
It looks like real. Writing name on birthday cakes is very easy and you can impress your friends with the birthday cake images with their names.
Wish your friend with this unique birthday cake enriched with chocolate crunch cookies. It's look real and simple. Add photo and write name to generate it.
Birthday cake with name and photo in the shape of heart and in chocolate flavor. Try this chocolate bday cake for your friends birthday wishes and surprises.
Red velvet roses birthday cake with name photo is the only cake that can blow anyone's heart. Wish your dear ones a happy birthday with love of this cake image.
New year birthday cake with name is the best choice to wish your friends on birthday along with new year wish. This is surprisingly good birthday wish.
Write your name on birthday cakes like real decorated cake. By this tool you can write any name online on lot of birthday cakes in seconds.
Here are the beautiful butterfly happy birthday cakes for anyone with the option to write their name in an awesome and cool way. Try once and you will love it.
Wants to wish someone special on his/ her birthday? Can't send real cake as you are far away. Send this free online edit Birthday cake to your friend.
Write name on this coca cola birthday cake specially created for the cola lovers. If you are also the coca cola fan, this cake is made for you, try it.
Surprise and wish your fellas with this love chocolate birthday cake with writing their name on it. You can set a topper photo on this chocolate cake.
Beautiful happy birthday vanilla cake filled inside with chocolate chip chunks. A beautiful and colorful rainbow cake topper with clouds is attached on this lovely cake.
Write any name on golden heart birthday cake which looks like real and make anyone's birthday awesome. It will make them feel special.
This beautiful birthday cake is decorated with flowers and have buttercream topping on it. Inside this cake it is full of chocolates and chunks of chocolate chips.
Write anyone's name on colorful flowers birthday cake & celebrate birthday in a special way. Impress friends with their name decorated cake.
We have designed Quarantine birthday cake with name. So you can create this cake also during this covid pandemic, if you are not able to visit.
The best ever happy birthday cakes for lovers with the option to write name which looks like real. Get one now and impress them.
This beautiful galaxy cake with planets is full of chocolate and have buttercream frosting on top of it. This is looking just like real and wonderful cake.
Write any name on purple happy birthday cake which looks like real and make anyone's birthday awesome. It will make them feel special.
Wish your sister, wife mother or anyone by write her name on this roses birthday cake. She will love it with her name and photo on it. You can whatsapp her with ease.
The best ever stars birthday cakes for Friends with the option to write name which looks like real. Get one now and impress them.