Birthday Cake With Name and Photo - Best for Friends
This birthday cake with name and photo is best for friends for wishing on their birthday. Set a prop photo of friend with balloons on the top of cake.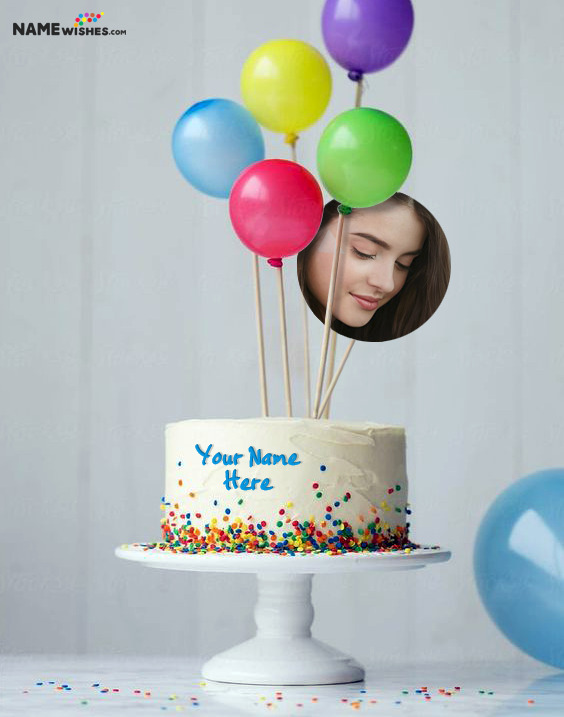 Birthday Cake With Name and Photo
This brilliant, capricious vanilla cake with colorful balloons has sprinkles all around, and just might be a definitive birthday cake. You can easily add your beautiful image as cake topper and it will definitely looks awesome.
There is also an option of adding text or custom wish in order to make your friends day most important through this wish.
Wish your Friend with love, joy, hope and everlasting happiness in the life. Friends birthday is always important for other friends and everyone wants to wish in unique style. So generate this happy birthday cake with name and photo and put in the box. Happy birthday collage is best for friends if you want more than one photo.
Write name on Red rose Birthday Cake decorated with white buttercream frosting on top of it. This is the best idea to wish anyone online. Make everyone's birthday special with name birthday cakes.
Write anyone's name on vanilla birthday cake and celebrate their birthday in special way. They will love birthday cake with name.
Birthday of your Love? Try this beautiful kiss emoji cake. Send her by writing her name and make her day memorable. Wish her with success and happiness.
Special birthday cake with name and pic edit is the best cake online for special people. Surprise your friends and family with this real birthday cake heart.
Donuts birthday cake with name and photo is for you if you are love donuts. This colorful birthday cake is best for friends and family to wish birthdays.
Girly birthday cake with name is the unique and pretty birthday wish idea for girls. Try this idea by writing your girl friends name on this girly cake
This beautiful cake is filled with chocolate caramel and loaded with macrons, Chocolate balls and snickers crunchy chocolate chips cookies. Share it with your friend on Birthday.
The best ever cute happy birthday cakes for girls with the option to write name which looks like real. Get one now and impress them.
Chocolate Vanilla Birthday Cake for the most prettiest lady in your life. At least you're not as old as you will be next year. Try these unique cakes.
Birthday of the little prince or princess in your circle? Wish him/her with this unique prince themed birthday cake with name and photo edit. Add her lovely photo and write name on this cake.
Write name on happy birthday cake for husband or wife. Perfect cake for your partner or your best friend who is also a lover. Send this beautiful cake to him or her on big day.
White chocolate birthday cake, cake with name and photo. This cake is designed with vanilla flavor and a beautiful photo topper is making it more unique.
Write any name on best ever chocolate birthday cake and impress anyone on their birthday in a best way. They will love it. It looks like real.
Birthday cake for sister with name is the sibling way to wish your sister a happy birthday. Make birthday wish and write name on queen birthday cake.
Write any name on tree chocolate birthday cake which looks like real and make anyone's birthday awesome. It will make them feel special.
Write anyone's name on chocolate filled birthday cake & celebrate birthday in a special way. Impress friends with their name decorated cake.
Unique way to wish your friends a very happy birthday. Write any name on chocolate birthday cake and make it special. It looks like real, try ones.
Now write your name on birthday cake which is specially designed for friends. Send this funny birthday cake to your friends and have fun.
The perfect cake for your beautiful and prettiest wife or girlfriend. This girly cake is made up of vanilla and red velvet flavor. It has a 3D effect.
Write anyone's name on cookies birthday cake & celebrate anyone's birthday in a special way. Wish all the best to friends.