Baby Shark Themed 3rd Birthday Cake with Name and Photo
This cute baby shark themed birthday cake is perfect to give some cute little doll who just turns 3 years old. Send her this beautiful cake and make her feel happy.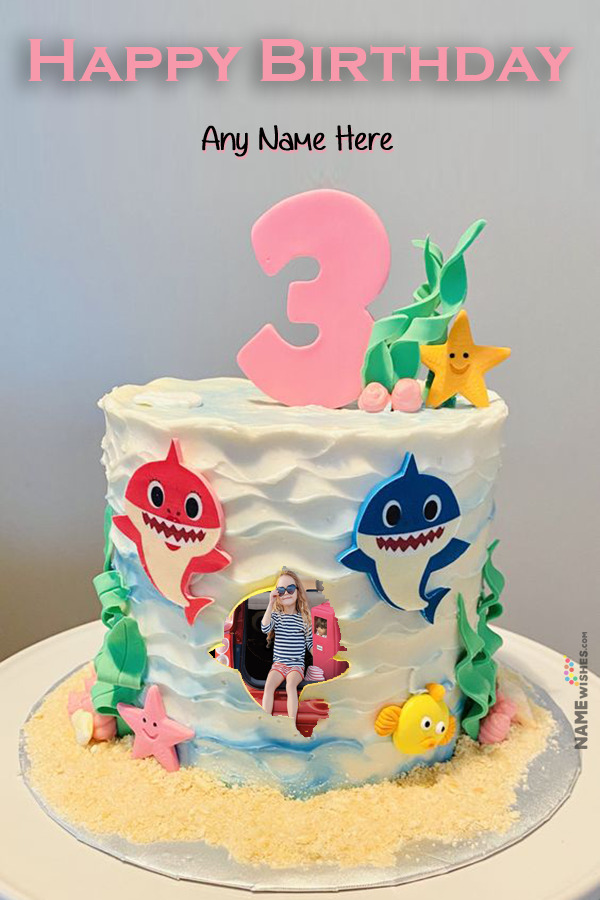 Birthday Cake With Name and Photo
Set 3 photos of you or with your spouse on birthday cupcakes. Only online birthday cake with photo with 3 snaps for wishing awesomely to anyone.
Golden birthday cake with name and photo is the only option to wish your father or mother or anyone elder. Write name and use a beautiful photo as a prop.
Write anyone's name on chocolate heart birthday cake and celebrate their birthday in special way. They will love birthday cake with name.
If the casual wishes doesn't work for your then birthday cake with photo is the best fit. Wish your friend with his/her name on green yummy cookies cake.
Try this oreo chocolate birthday cake. This cake is combo of oreo chocolate cookies and vanilla cream. Send this to your friends and wish them birthday.
Write any name on red velvet birthday cake and impress anyone on their birthday in a best way. They will love it. It looks like real.
Use this birthday cake with photo of your best friend to tell everyone about your friendship. A big cake for big heart friend is the great online wish.
White chocolate birthday cake, cake with name and photo. This cake is designed with vanilla flavor and a beautiful photo topper is making it more unique.
Write any name on dairly milk chocolate shaped birthday cake to make the birthday of your beloved ones more sweet and special.
Wish your friend with this unique birthday cake enriched with chocolate crunch cookies. It's look real and simple. Add photo and write name to generate it.
This beautiful Royal cake is perfect to gift who is a prince or princess to you. This fondant cake have a beautiful golden crown on it and enriched with vanilla buttercream frosting.
This beautiful galaxy cake with planets is full of chocolate and have buttercream frosting on top of it. This is looking just like real and wonderful cake.
Customized heart birthday cake with name and photo is the new type of birthday wish idea. Sending romantic heart cake on birthday with name is easy.
Wish your loved ones with unique wishes. Say Happy Birthday and send this cake free online as a gift. You just have to add the name of your friend or wife.
Looking for birthday cakes? Here is the awesome collection of birthday cakes and more importantly there is an option to write name.
Looking for unique birthday cakes? Wanna wish your beloved ones in a special way? Then write friend's name on the chocolate heart cake.
Happy Birthday! Celebrate her big day by sending this beautiful heart shaped rosette cake. The cake is topped with Dark chocolate and filled with chunks.
Now write your name on birthday cake which is specially designed for BMW lovers. Send this birthday cake to your friend who love BMW Cars.
Simplest and cutest heart birthday cake with name and photo frame. Red heart birthday cake with option to write your name and set a photo of yours in heart shape
Send this beautifully designed and elegant cake to your friend or relative as a free online gift on his/her birthday. Just write name and add photo to make it more wonderful.