Marriage Anniversary Wishes With Name
Marriage anniversary wishes for your husband or wife. Special wishes for your partner with special quotes and with name writing option.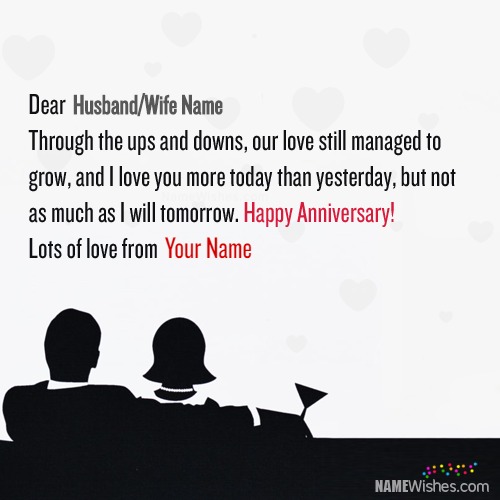 Anniversary Wishes
The day is here again, you can not remember every moment of that day, but you could remember when you first looked at your partner's eyes on you wedding day.remember that you went through many ups and downs till today but you both were always there for each other in the goods and bad. It is time to celebrate all those moments which were special for both of you. this picture is surely gong to make your partner feel so special on you wedding anniversary.Edit this picture with his or her name and send it to your partner through any social website or you can simply share it on your wall on Facebook or any other site to show your love to your social circle as well.
Wanna surprise your partner on wedding anniversary with some special wishes? Simply write your names on this custom card & make your partner smile.
Bestest collection of wedding anniversary wishes written on cards. Also you can write couple name on the wishes to make you special day more special.
Impress your partner with wedding anniversay wishes by writing his or her name on the heartful anniversary card. This card is customizable.