Lovely Happy Birthday Cake With Name
The best ever happy birthday cakes for everyone with the option to write name which looks like real. Get one now and impress them.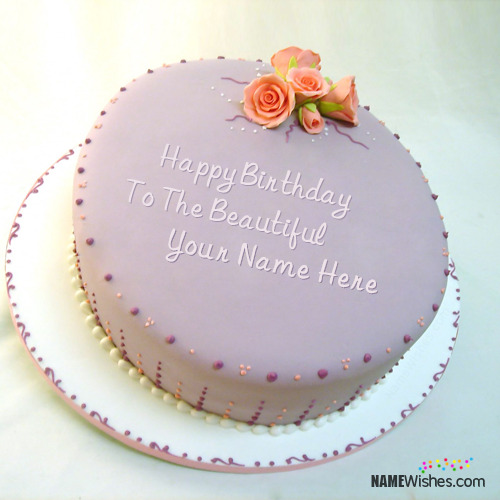 Birthday Cake With Name and Photo
If you are looking for something special to wish anyone on their birthday then you are on the right spot. Here are the best ever happy birthday cakes for them with the option to write their name in an awesome and cool way. These happy birthday cakes look like real and you can make wishes more amazing with these birthday cakes with name. Share with your friends and impress them with these real like cakes. They will love it. If you like these then please share this app with your friends so they can also spread the love on the birthdays of their beloved ones.
Birthday of the one who loves to see the dance of peacock? You are at the exact place. Just write his or her name on this colorful cake and send them.
Special birthday cake with name and pic edit is the best cake online for special people. Surprise your friends and family with this real birthday cake heart.
Send this beautiful Unicorn themed birthday cake to your friend who will definitely love it. Write his/her name and add photo. Generate it and share it with others.
This beautiful galaxy cake with planets is full of chocolate and have buttercream frosting on top of it. This is looking just like real and wonderful cake.
Ocean birthday photo cake with name for girls and aged people. Ocean birthday cake lovers, birthday cake name edit, photo birthday cake, birthday cake with photo frame.
There are old boring birthday cakes on all over the internet that you don't want to use. Try these new birthday cakes with any name and wish your friends.
Here is the special cookies ice-cream birthday cake for anyone with name decorated on and also with the photo frame.
Birthday wishes for best friends should be best. So here we are giving you the option to write your friend name on birthday cake as birthday wish.
This beautiful mango cake is decorated with dark chocolate and white chocolate pastels. You can easily write name on birthday cake and photo is optional if you want to add.
Write any name on tree chocolate birthday cake which looks like real and make anyone's birthday awesome. It will make them feel special.
Chocolate Vanilla Birthday Cake for the most prettiest lady in your life. At least you're not as old as you will be next year. Try these unique cakes.
This beautiful cake is filled with chocolate caramel and loaded with macrons, Chocolate balls and snickers crunchy chocolate chips cookies. Share it with your friend on Birthday.
Wish your lovely husband or Wife with this beautiful Happy Birthday cake. You can easily write his or her name and can easily send free online cake.
The perfect cake for your beautiful and prettiest wife or girlfriend. This girly cake is made up of vanilla and red velvet flavor. It has a 3D effect.
PUBG Birthday cake with name specially create for pubg fans. Send this pubg cake on your friends birthday with his name printed on. He will love it.
Everyone likes chocolate cakes on their birthday. But if you write any name on birhtday cake then it becomes more valuable for that person.
Birthday cake with name and photo in the shape of heart and in chocolate flavor. Try this chocolate bday cake for your friends birthday wishes and surprises.
The best ever happy birthday cakes for someone with the option to write name which looks like real. Get one now and impress them.
Try this oreo chocolate birthday cake. This cake is combo of oreo chocolate cookies and vanilla cream. Send this to your friends and wish them birthday.
Make your birthday wishes more awesome with Birthday cake with Name and Photo editor online. This way you can generate unique wishes to impress your friends.