Lovely Birthday Cake With Name For Lover
The best ever happy birthday cakes for lovers with the option to write name which looks like real. Get one now and impress them.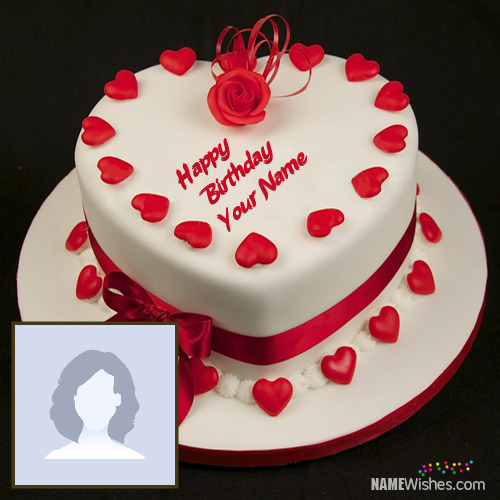 Birthday Cake With Name and Photo
If you are looking for something special to wish lovers on their birthday then you are on the right spot. Here are the best ever best birthday cakes for lovers with the option to write their name in an awesome and cool way. These happy birthday cakes look like real and you can make wishes more amazing with these birthday cakes with name. Share with your friends and impress them with these real like cakes. They will love it. If you like these then please share this app with your friends so they can also spread the love on the birthdays of their beloved ones.
Happy Birthday Sweet 16. Wish Happy Birthday to the beautiful girl who just turns to Sixteen. Let's celebrate her big day by sending this lovely cake.
Write anyone's name on colorful chocolate birthday cake and celebrate their birthday in a unique way. They will love birthday cake with name.
Write name on awesome Hershey's chocolate cake & impress your friends on their birthday in a creative way. They will love it. It's like real.
This heart shaped birthday cake with name and photo is filled with whipped ice-cream. Cover this cake with any photo and anyone's name for wishing.
Girly birthday cake with name is the unique and pretty birthday wish idea for girls. Try this idea by writing your girl friends name on this girly cake
Write any name on angry bird birthday cake which looks like real and make anyone's birthday awesome. It will make them feel special.
Make your birthday wishes more awesome with Birthday cake with Name and Photo editor online. This way you can generate unique wishes to impress your friends.
Write any name on golden heart birthday cake which looks like real and make anyone's birthday awesome. It will make them feel special.
Birthday of your lover and wants to send the perfect cake on his/her birthday? Try this beautiful love and kiss XOXO design birthday cake with name edit online.
Give a sweetest gift to your friend or anyone by writing name on birthday cakes. This is the most unique birthday wish of chocolate birthday cake with name for friend.
If the casual wishes doesn't work for your then birthday cake with photo is the best fit. Wish your friend with his/her name on green yummy cookies cake.
This beautiful birthday cake is decorated with flowers and have buttercream topping on it. Inside this cake it is full of chocolates and chunks of chocolate chips.
Write anyone's name on full chocolate birthday cake & celebrate birthday in a special way. Impress friends with their name decorated cake.
Introducing birthday chocolate cake with curved name. Write your name in curved style on this yummy chocolate birthday cake. Birthday cake for friends and family.
Now you can write names on birthday cakes in seconds. Wish a happy birthday to your beloved ones in some special way. You will love it.
Write name on Red rose Birthday Cake decorated with white buttercream frosting on top of it. This is the best idea to wish anyone online. Make everyone's birthday special with name birthday cakes.
We have designed Quarantine birthday cake with name. So you can create this cake also during this covid pandemic, if you are not able to visit.
Makeup kit birthday cake with name For those girls who love to wear makeup all the time. Create this for that pretty girl on her birthday as wish cake.
Send this beautiful birthday cake with name to your friends or relatives via internet. This is a free digital birthday gift for someone special.
Surprise your Friend on her birthday with this Tik Tok Birthday Cake. Perfect cake for Social Addict friend. Write her name and insert her photo.