Love Chocolates Birthday Cake With Name and Photo Topper
Surprise and wish your fellas with this love chocolate birthday cake with writing their name on it. You can set a topper photo on this chocolate cake.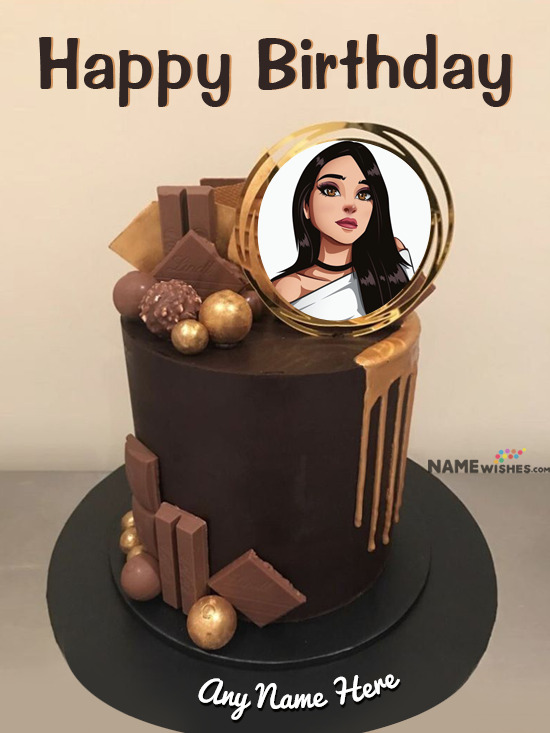 Birthday Cake With Name and Photo
This beautiful birthday cake is decorated with flowers and have buttercream topping on it. Inside this cake it is full of chocolates and chunks of chocolate chips.
White chocolate birthday cake, cake with name and photo. This cake is designed with vanilla flavor and a beautiful photo topper is making it more unique.
Wish someone with this beautiful rose Dark chocolate birthday cake. You just have to add photo and Name of your friend. Download photo and send it.
Cookies with photo and birthday cake with photo is the lovely combination when it's come to birthday party. Apply a memorable photo on cake wish online.
This is the beautiful birthday cake in heart shape which you can use to wish your lover on his or her birthday by writing the name like real.
Decorated name on a cake is the love. Wish anyone with this roses birthday cake with name and photo edit. Simply unique and yummy birthday cake for wishing.
Write anyone's name on tiny black ice cream birthday cake and celebrate their birthday in special way. Impress them, they will love it.
This cute heart shape cake is made of dark chocolate and decorated very decent way which looking extremely beautiful. Send this cake to your husband on his birthday.
Wants to wish your friend on her birthday in unique way? Try this beautiful birthday cake image with name and photo. Its look like real cake. Wish her.
Get 100s of likes, hearts and bundle of comments with this birthday cake with photo. Everyone will love this photo cake with an adorable wish or name.
Finding perfect cake for your wife's birthday or your girlfriend;s birthday? You are at the right place. Here you will find lots of wishes, cake to wish.
Birthday of the one who loves McDonald's ? Send him/her this beautiful McDonald cake loaded with Beef Burger, Fries and cold drink. Write name on cake and add photo.
Write the name on best Hershey's chocolate cake and impress your friends on their birthday in a creative way. They will love it. It's like real.
Birthday of the one who loves to see the dance of peacock? You are at the exact place. Just write his or her name on this colorful cake and send them.
The best ever happy birthday cakes for girlfriend with the option to write name which looks like real. Get one now and impress her.
Set 3 photos of you or with your spouse on birthday cupcakes. Only online birthday cake with photo with 3 snaps for wishing awesomely to anyone.
Purple indigo girly birthday cake with name for girls. Girly birthday cake with name edit, girly birthday cake with name and photo, girly birthday cake with photo.
This beautiful cake has Choco Chip layers and topped with Cherries and strawberries. The flavor is red velvet and chocolate chip chunks. Add her name.
Write anyone's name on ice cream strawberry birthday cake & celebrate birthday in a special way. Impress friends with their name decorated cake.
Donuts birthday cake with name and photo is for you if you are love donuts. This colorful birthday cake is best for friends and family to wish birthdays.