Heart Red Velvet Birthday Cake
Write any name on red velvet birthday cake and impress anyone on their birthday in a best way. They will love it. It looks like real.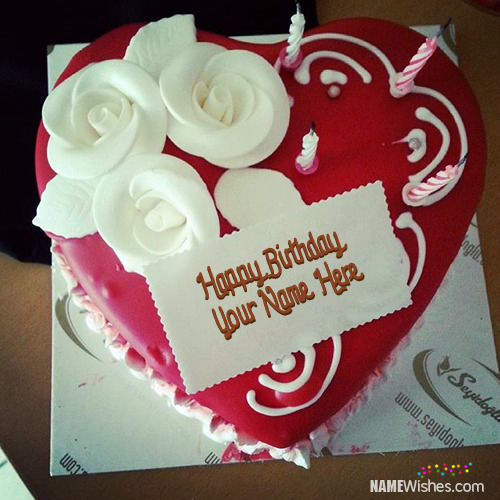 Birthday Cake With Name and Photo
Write any name on heart shaped red velvet birthday cake and make anyone's birthday lovely and awesome. You can write name of your friends, any family member or your lover's name in just a single step. It will make them feel special. It is now very easy to write name on happy birthday cakes and these cakes looks like real. You can impress your friends with these new birthday wishes with their name decorated on. They will love it. Don't forget to share.
Birthday of the one who loves to see the dance of peacock? You are at the exact place. Just write his or her name on this colorful cake and send them.
Try this cupcake for wishing your spouse online with a cute photo. This birthday cake with photo will allow you to set a photo in heart shape on cupcake.
Birthday cake for sister with name and photo is the best cake online to wish your sister. Make her day a happy day with this cute birthday wish surprise.
The best ever happy birthday cakes for everyone with the option to write name which looks like real. Get one now and impress them.
Write name on this coca cola birthday cake specially created for the cola lovers. If you are also the coca cola fan, this cake is made for you, try it.
Wants to send free online birthday cake to your best friend? Try these amazing beautiful and unique Birthday cakes with name and photo. Wish her with love.
Black chocolate birthday cake with name, black birthday cake with name, chocolate cake with name edit, chocolate cake edit online, birthday cake with chocolate name.
Write anyone's name on unique chocolate birthday cake and celebrate their birthday in special way. Impress them, they will love it.
Birthday of your lover and wants to send the perfect cake on his/her birthday? Try this beautiful love and kiss XOXO design birthday cake with name edit online.
Wish anyone who is mad about chocolates with our new chocolate birthday cake with photo. Use a selfie snap of the birthday boy or girl on this cake wish.
Now write your name on birthday cake which is specially designed for friends. Send this funny birthday cake to your friends and have fun.
The best ever queen birthday cakes for girls with the option to write name which looks like real. Get one now and impress them.
Wants to send your friend an online birthday cake who is a gym lover? Send this beautiful birthday cake gym themed to your buddy on his birthday. Wish him good luck for future.
Delicious milky chocolate Happy Birthday cake with Name and photo. Try this beautiful cake and send this to your lovely wife or friend on her big day.
Write anyone's name on red ice-cream fruity birthday cake & celebrate birthday in a special way. Impress friends with their name decorated cake.
Impress your wife with unique happy birthday wife cake with photo. Choose a beautiful photo of her and paste on this lovely heart birthday cake.
This beautiful cake is filled with chocolate caramel and loaded with macrons, Chocolate balls and snickers crunchy chocolate chips cookies. Share it with your friend on Birthday.
Beautiful cake designed with fresh flowers and butterflies. Beautiful golden balls gives an elegant look. Share this beautiful cake with your friend on Birthday.
Birthday wishes for best friends should be best. So here we are giving you the option to write your friend name on birthday cake as birthday wish.
This cute baby shark themed birthday cake is perfect to give some cute little doll who just turns 3 years old. Send her this beautiful cake and make her feel happy.