Heart Birthday Cake With Name and 2 Photos For Every Relation
Try our unique heart birthday cake with 2 photos on it. You can also set a name of the birthday person with cool lovely style and wish.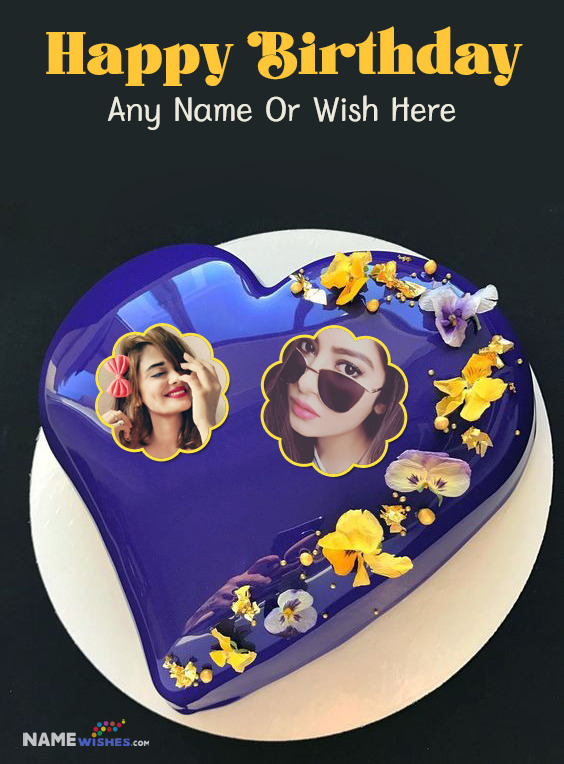 Birthday Cake With Name and Photo
Makeup kit birthday cake with name For those girls who love to wear makeup all the time. Create this for that pretty girl on her birthday as wish cake.
Celebrate your wife or girlfriend birthday in unique way. Send her this beautiful online free birthday cake with her name written on it. Specially for her.
Write anyone's name on birthday cake with decorated wish and celebrate birthday in a special way. Impress them with their name written on cake.
Send this beautiful Unicorn themed birthday cake to your friend who will definitely love it. Write his/her name and add photo. Generate it and share it with others.
This beautiful chocolate heart birthday cake is a perfect gift for your boy friend or girl friend on his/her birthday. Send this digital cake gift to anyone on WhatsApp also.
The best ever queen birthday cakes for girls with the option to write name which looks like real. Get one now and impress them.
Get 100s of likes, hearts and bundle of comments with this birthday cake with photo. Everyone will love this photo cake with an adorable wish or name.
Here are the beautiful butterfly happy birthday cakes for anyone with the option to write their name in an awesome and cool way. Try once and you will love it.
Write anyone's name on new red velvet birthday cake and celebrate birthday in a special way. Impress them with their name written on cake.
Write name on amazing birthday cake and impress your friends on their birthday in a creative way. They will love it. It looks like real.
Write any name on Kit Kat shaped birthday cake which looks like real and make anyone's birthday awesome. It will make them feel special.
This beautiful mango cake is decorated with dark chocolate and white chocolate pastels. You can easily write name on birthday cake and photo is optional if you want to add.
Birthday cakes are the best way to surprise your friends online. You can make it more awesome with name and photo setting on birthday cake that speaks.
Write anyone's name on tiny hearts icecream birthday cake and celebrate their birthday in special way. Impress them, they will love it.
Wish your lovely husband or Wife with this beautiful Happy Birthday cake. You can easily write his or her name and can easily send free online cake.
Write anyone's name on pineapple birthday cake & celebrate anyone's birthday in a special way. Wish all the best to friends.
Ocean birthday photo cake with name for girls and aged people. Ocean birthday cake lovers, birthday cake name edit, photo birthday cake, birthday cake with photo frame.
Cute Tongue Smiley Birthday Cake For friends and family. Try this beautiful, colorful bunties chocolate vanilla cake. Best for girls birthdays.
Delicious, rich and moist Cadbury chocolate cake is sure to become a favorite for anyone. Cadbury Dairy Milk Birthday Cake with Name is the best way to wish your loved ones on their birthday.
Teddy birthday cake with name and photo is the best option if you wish to send a birthday wish to someone special. This is the most special bday cake.
Bertina-L38r5
BoilingBlackDemo-jEReR