Happy Birthday Cake with Name Edit Online
This beautiful happy birthday cake with name is perfectly designed for teens and cute girls. You can easily send this beautiful cake to your friends or relatives as a free online gift.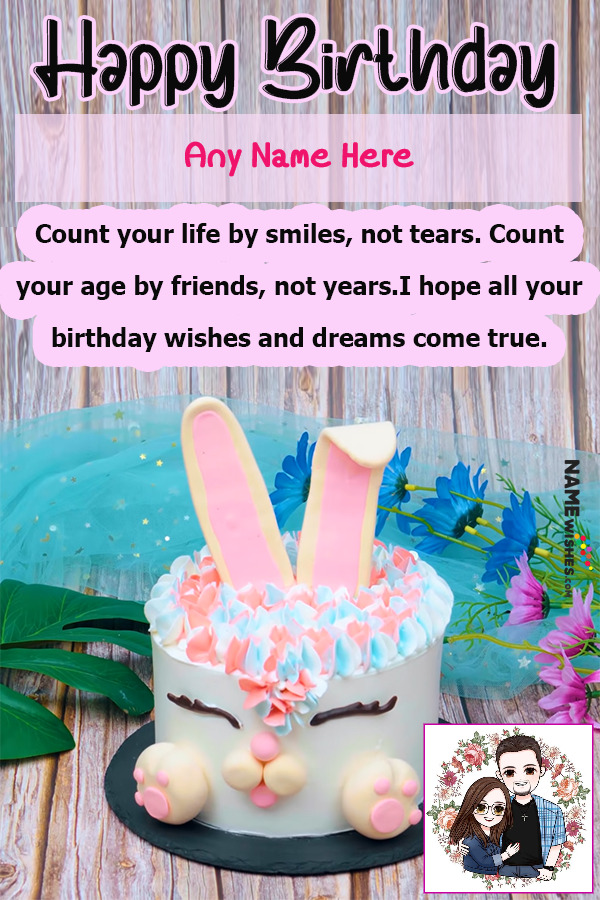 Birthday Cake With Name and Photo
The best ever heart birthday cakes for lovers with the option to write name which looks like real. Get one now and impress them.
Special chocolate birthday cakes for special persons. Don't waste time on boring birthday wishes. Write any name on birthday cakes now online.
Write anyone's name on ice cream strawberry birthday cake & celebrate birthday in a special way. Impress friends with their name decorated cake.
Now write your name on birthday cake which is specially designed for BMW lovers. Send this birthday cake to your friend who love BMW Cars.
Wish your loved ones with unique wishes. Say Happy Birthday and send this cake free online as a gift. You just have to add the name of your friend or wife.
This beautiful birthday cake is decorated with flowers and have buttercream topping on it. Inside this cake it is full of chocolates and chunks of chocolate chips.
Write anyone's name on chocolate filled birthday cake & celebrate birthday in a special way. Impress friends with their name decorated cake.
5th Birthday of a cute lovely birthday girl ? Send her this beautiful letter number cake designed with macrons and chocolates and chunks. Happy Birthday 5th Cake.
Like dairy milk? This birthday cake with name is for you to edit with your text and share your birthday wishes. You have got a cool birthday cake wish.
Birthday of your lover and wants to send the perfect cake on his/her birthday? Try this beautiful love and kiss XOXO design birthday cake with name edit online.
Celebrate your friend's birthday by wishing in best way and making them feel how important they are. Write their name on birthday cakes.
Write any name on purple happy birthday cake which looks like real and make anyone's birthday awesome. It will make them feel special.
Write anyone's name on tiny black ice cream birthday cake and celebrate their birthday in special way. Impress them, they will love it.
Number 2 chocolate birthday cake is a digital gift for someone special who is close to your heart. Send this letter number cake to anyone freely through our website
Write name of your friend or girlfriend on this lovely cake. This cute cake is decorated with caramel crunch toppings and fresh flowers. There are lots of birthday cakes, you can check.
Birthday cake with photo and name frame and in heart shape is always the best choice for wishing online. Make this photo birthday cake for anyone to wish them on bday
Try this oreo chocolate birthday cake. This cake is combo of oreo chocolate cookies and vanilla cream. Send this to your friends and wish them birthday.
Birthday cakes with photo in square shapes are very common. Using this birthday cake with name you can wish your friends or anyone online for free.
This beautiful chocolate heart birthday cake is a perfect gift for your boy friend or girl friend on his/her birthday. Send this digital cake gift to anyone on WhatsApp also.
Write friend's name on ice cream cake cake & celebrate anyone' birthday in a unique way. Impress them with their name written on cake.