Fresh Flowers Birthday Cake With Name For Wife or Sister
Birthday of your beautiful wife? Send her this fresh flower birthday cake with name free online. Happy Center of Attention Day Pretty lady. Show Love.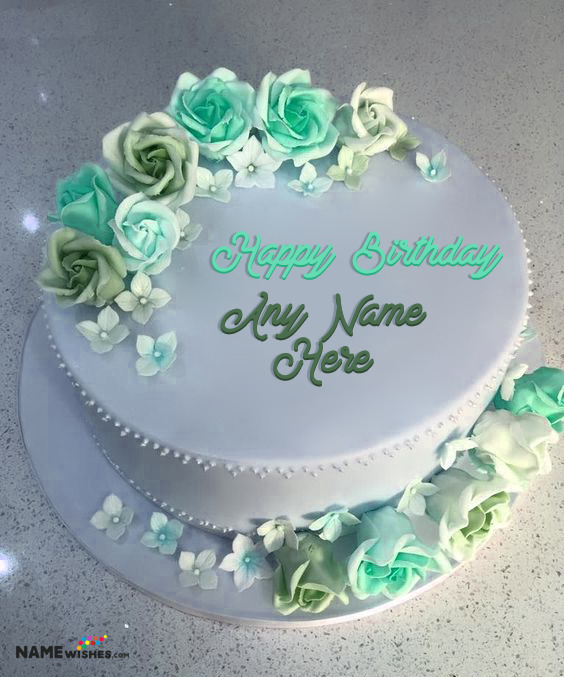 Birthday Cake With Name and Photo
Perfect Birthday Cake for girls who love to laugh and are somewhat jolly and loving. Make her more happy on her Big day by sending this emoji cake.
Happy Birthday! Celebrate her big day by sending this beautiful heart shaped rosette cake. The cake is topped with Dark chocolate and filled with chunks.
Wish your friends by writing his/her name on this colorful birthday cake and set their photo in a frame. Hope they will love it.
You think you are smart? Yes you are because you are going to try birthday cake with photo to wish your friends by setting 2 photos in stars shape.
Wants to send your friend an online birthday cake who is a gym lover? Send this beautiful birthday cake gym themed to your buddy on his birthday. Wish him good luck for future.
Write anyone's name on new flower birthday cake and celebrate birthday in a special way. Impress them with their name written on cake.
Write any name on dairly milk chocolate shaped birthday cake to make the birthday of your beloved ones more sweet and special.
Finding the perfect happy Birthday cake for your Dad brother or husband? You are at the right place. This is the perfect cake ideally designed for men.
Try this oreo chocolate birthday cake. This cake is combo of oreo chocolate cookies and vanilla cream. Send this to your friends and wish them birthday.
Teddy birthday cake with name and photo is the best option if you wish to send a birthday wish to someone special. This is the most special bday cake.
Write friend's name on ice cream cake cake & celebrate anyone' birthday in a unique way. Impress them with their name written on cake.
Wish your loved ones with unique wishes. Say Happy Birthday and send this cake free online as a gift. You just have to add the name of your friend or wife.
Write name on amazing birthday cake and impress your friends on their birthday in a creative way. They will love it. It looks like real.
Here is the new Batman cake with name edit for your birthday wishes. Happy birthday cake with name edit, Birthday Cake with Name generator for friends.
Cookies with photo and birthday cake with photo is the lovely combination when it's come to birthday party. Apply a memorable photo on cake wish online.
Beautiful cake designed with fresh flowers and butterflies. Beautiful golden balls gives an elegant look. Share this beautiful cake with your friend on Birthday.
Wish Happy birthday to your friends or relatives by using these unique wonderful cakes. This unique Oreo buttercream cake is enriched and decorated with sprinkles and candies.
Birthday of the one who loves to see the dance of peacock? You are at the exact place. Just write his or her name on this colorful cake and send them.
Surprise and wish your fellas with this love chocolate birthday cake with writing their name on it. You can set a topper photo on this chocolate cake.
Birthday cake with photo and name frame and in heart shape is always the best choice for wishing online. Make this photo birthday cake for anyone to wish them on bday
BesttersSupplyDemo
BesttersSupplyDemo