Colorful PeaCock Birthday Cake With Name For Brother or Husband
Birthday of the one who loves to see the dance of peacock? You are at the exact place. Just write his or her name on this colorful cake and send them.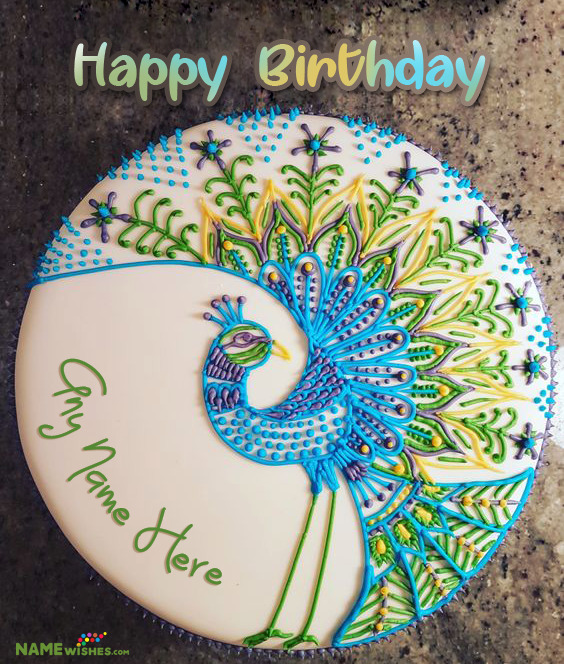 Birthday Cake With Name and Photo
This heart shaped birthday cake with name and photo is filled with whipped ice-cream. Cover this cake with any photo and anyone's name for wishing.
This cute heart shape cake is made of dark chocolate and decorated very decent way which looking extremely beautiful. Send this cake to your husband on his birthday.
This is the beautiful birthday cake in heart shape which you can use to wish your lover on his or her birthday by writing the name like real.
6 beautiful cups and you can set photos on 2 of them. Also you can write name on a cupcake to make it more romantic and memorable.
Perfect Birthday Cake for girls who love to laugh and are somewhat jolly and loving. Make her more happy on her Big day by sending this emoji cake.
Write friend's name on lovely orio mix birthday cake and celebrate birthday in a special way. Impress friends with their name written on cake.
The perfect cake for your beautiful and prettiest wife or girlfriend. This girly cake is made up of vanilla and red velvet flavor. It has a 3D effect.
Write anyone's name on yellow ice cream birthday cake and celebrate their birthday in special way. They will love birthday cake with name.
Write the name on best birthday cakes and impress your friends on their birthday in a creative way. They will love it. It's like real.
Beautiful butterflies birthday cake with name edit. This cake is made for mothers, sisters, wife and girls who are awesome and creative. Wish them best.
Delicious milky chocolate Happy Birthday cake with Name and photo. Try this beautiful cake and send this to your lovely wife or friend on her big day.
Write any name on white roses blue birthday cake which looks like real and make anyone's birthday awesome. It will make them feel special.
The best ever happy birthday cakes for someone with the option to write name which looks like real. Get one now and impress them.
This beautiful Royal cake is perfect to gift who is a prince or princess to you. This fondant cake have a beautiful golden crown on it and enriched with vanilla buttercream frosting.
Special chocolate birthday cakes for special persons. Don't waste time on boring birthday wishes. Write any name on birthday cakes now online.
Write anyone's name on pineapple birthday cake & celebrate anyone's birthday in a special way. Wish all the best to friends.
Write name on birthday cake specially designed for social media lovers. Try this social birthday cake with name, you will love its decorating and style
Send this lovely green birthday cake with name to your friends or relatives via internet. Digital way to wish happy birthday to your lover or partner.
Surprise and wish your fellas with this love chocolate birthday cake with writing their name on it. You can set a topper photo on this chocolate cake.
Write any name on Kit Kat shaped birthday cake which looks like real and make anyone's birthday awesome. It will make them feel special.
JoyLikeSunshineThroughMyWindowpane